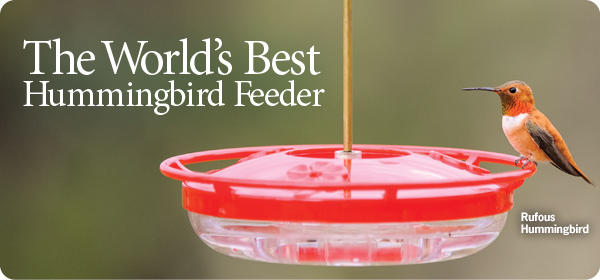 Create a Hummingbird Haven
Welcome hummingbirds to your backyard by offering multiple Wild Birds Unlimited Hummingbird Feeders. The functional design appeals to hummingbirds and allows them to hover or perch while feeding. They do not leak, and the built-in ant moats deter crawling insects. These feeders are convenient and easy to clean and come with a lifetime guarantee.
With multiple feeders, you'll attract more hummingbirds and prevent a single bird from bullying others away.
Four Sizes/Capacities Available:
Mini High Perch 4 oz with 3 ports; no built-in ant moat - $15.99
Small High Perch 8 oz with 3 ports and built-in ant moat - $21.99
Large High Perch 12 oz with 4 ports and built-in ant moat - $25.99
XL High Perch 16 oz with 6 ports and built-in ant moat - $30.99
CALL US AT 618-235-3370 TO PURCHASE OVER THE PHONE AND PICK UP CURBSIDE!